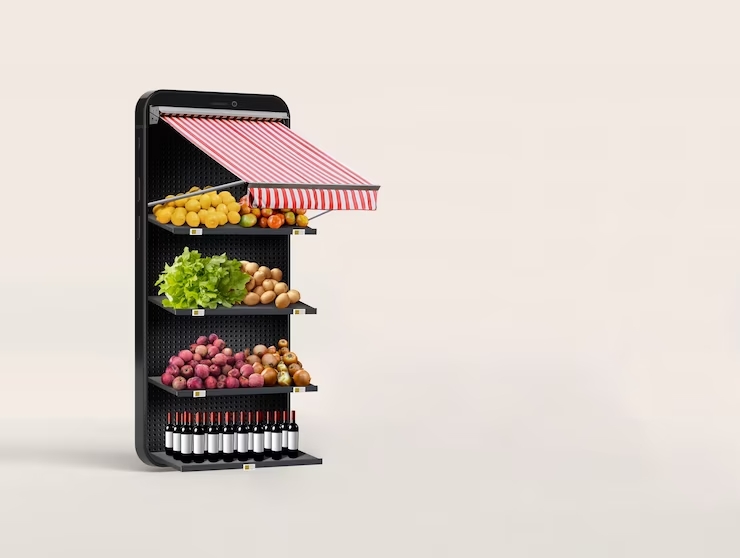 06 Feb 2023
Online grocery delivery stores are businesses that offer customers the ability to purchase groceries and other household items. These website or mobile app with the option for delivery or pickup. This model has grown in popularity due to the benefit it offers as customers can shop for groceries from the comfort of their own homes. Shop On Mobile have Create online shop and we have Best offers on grocery items. Advantages of online grocery delivery stores include:
Convenience: Customers can place orders at any time, from anywhere, and have groceries delivered to their door.
Time-saving: Customers don't need to spend time traveling to a physical store, browsing shelves, and standing in checkout lines.
Increased Product Selection: Online grocery stores often offer a wider range of products than physical stores.
Improved accuracy: Customers can avoid making mistakes and accidentally leaving items in their carts. By carefully reviewing their orders before checkout.
Accessibility: Online grocery stores are often accessible to those who have difficulty getting to a physical store. i.e. the elderly or disabled.
To be successful, online grocery delivery stores must have an efficient and effective system in place for receiving and processing orders, storing and managing inventory, and delivering groceries to customers.
Challenges faced by online grocery delivery stores
High traffic loads
High traffic loads can be a challenge for online grocery delivery stores. During peak periods, such as holidays or weekends, there may be a sudden increase in demand for deliveries, leading to increased traffic on delivery routes and increased wait times for customers. This can lead to frustration among customers and a decrease in customer satisfaction, making it essential for online grocery delivery stores to plan ahead and have contingency plans in place to handle high traffic loads effectively.
Classification of the product catalogue structure
Classifying the product catalogue structure can be a challenge for online grocery delivery stores. Having a well-organized and easily searchable product catalogue is crucial for ensuring customer satisfaction and a smooth shopping experience. However, this can be difficult to achieve in a grocery store, where there may be thousands of products with different attributes and categories. Improper classification of the product catalogue structure can result in confusion for customers and make it difficult for them to find the products they are looking for, leading to decreased sales and reduced customer satisfaction. To overcome this challenge, online grocery delivery stores should implement robust and intuitive product catalogue management systems that allow for accurate and easy classification of products.
Inventory management problems
Inventory management is a major challenge faced by online grocery delivery stores. Maintaining accurate inventory levels is crucial for ensuring that customers. This can find the products they need and that the store can meet its delivery commitments. However, this can be difficult in a grocery store environment, where products are frequently sold out. New products are introduced, and demand can change rapidly. If the inventory management system is not up-to-date or if there are discrepancies in the data. The store may face stock shortages, overstocking, and other problems that can lead to lost sales and frustrated customers. To overcome this challenge, online grocery delivery stores should invest in robust inventory management systems. That provide real-time data and allow for efficient and accurate tracking of product availability.
Customer loyalty problems
Customer loyalty is a major challenge faced by online grocery delivery stores. To overcome this, companies need to focus on providing a seamless shopping experience, offer high-quality products and services. Build trust with their customers through effective communication and transparency. Offering loyalty programs, promotions and discounts, and providing excellent customer service can also help improve customer loyalty and retention. Additionally, continuously seeking feedback from customers and making improvements based on their suggestions. This can help maintain a positive relationship and encourage repeat business.
Strategies to Make Online Grocery Services Effective and Efficient
Making efficient use of different platforms
One strategy for making it effective and efficient is by utilizing multiple platforms to reach a wider audience. This could include having a website for online orders, a mobile app for on-the-go orders. A presence on popular marketplaces like Amazon or Google Express. Additionally, include features like real-time inventory tracking and personalized recommendations can help improve the customer experience and increase efficiency.
Making it easy to navigate
Easy for customers to navigate your online grocery delivery store is important for keeping them engaged and interested. The online grocery delivery store is crucial for customer satisfaction and retention. A clear and user-friendly interface with well-defined categories, easy-to-search product listings, and smoothen the checkout processes. Which can help to make the shopping experience more enjoyable for customers and improve the overall efficiency of the service. This can include features such as wishlist's, saved carts, and personalized recommendations to enhance the customer's experience.
Prioritizing high quality
Giving more importance to high quality customer service, such as fast delivery, responsive customer support, and flexible return policies. Can help build customer loyalty and trust in the brand. Offering a user-friendly website and mobile app with easy-to-use filters, detailed product information, and clear ordering and delivery processes. Which can enhance the customer experience and increase the effectiveness and efficiency of the service.
Offering flexible delivery
Options to customers are a key strategy to make online grocery delivery services effective and efficient. This can include options like same-day delivery, next-day delivery, or even scheduling deliveries for specific time slots. Offering flexible delivery options can help customers receive their groceries at a time that works best for them.