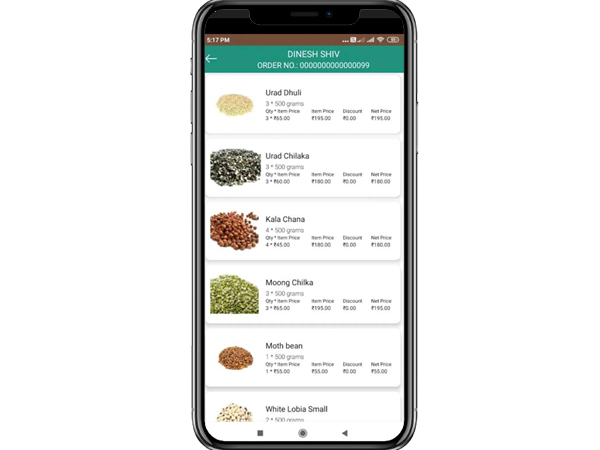 30 Jan 2023
Grocery delivery service to home is popular because it offers convenience and saves time for customers. They can place an order online or through a mobile app, and have the groceries delivered to their doorstep. This eliminates the need for them to go to the store in person, which can be especially useful for those who are busy, have mobility issues, or live in areas without easy access to a grocery store. Additionally, many grocery delivery services also offer curbside pickup and contact-less delivery options. This can help customers feel safe during the pandemic. ShopOnMobile is the App service for buying grocery online or local online dukaan for your daily needs.
Saves Time for Customers
Grocery delivery service to home saves time for customers as they can place an order online or through a mobile app and have the groceries delivered to their doorstep. Go to the store in person, which can be time-consuming especially if the store is far away or if it is during peak shopping hours. Online shopping allows customers to shop at any time, day or night. This can be particularly convenient for people with busy schedules.
Saves Money for Customers
Grocery delivery service can be a cost-effective option for some customers. But it may also have additional costs associated with it, such as delivery fees or service charges. Additionally, some studies have found that shoppers tend to spend more when they buy groceries online. As opposed to in-store, since it's easier to make impulsive purchases online and to add more items to a cart. Furthermore, online prices tend to be higher than in-store prices. It's also worth noting that some stores offer discounts and special deals for customers. Who pick up their groceries in-store rather than having them delivered. Shop on mobile is an easy to order grocery online app.
Product Filtering Capacities
Many grocery delivery services offer customers the ability to filter products by various criteria. Such as brand, price, dietary restrictions, and more. This can make it easier for customers to find the products they want and to compare prices. Additionally, many online grocery stores offer a search function that allows customers to quickly find specific items. Which can save time and make the shopping experience more efficient. These filtering options and search functions can also help customers with dietary restrictions or food allergies to meet their needs.
It has Low Operating Costs
It is true that grocery delivery services can have lower operating costs compared to traditional brick-and-mortar stores. They do not need to maintain a physical storefront. Which can be expensive in terms of rent, utilities, and other costs. Additionally, because they do not need to keep as much inventory on hand, they may be able to save money. However, it's important to note that operating a delivery service does come with its own set of expenses. Such as the cost of maintaining a fleet of delivery vehicles, fuel, and staffing. As demand for online grocery delivery continues to grow, the cost of acquiring customers and fulfilling orders may also increase.
It is Profitable
It is possible for grocery delivery services to be profitable. But it depends on a variety of factors such as the size of the business, the cost of goods and services and the efficiency of their operations. Additionally, as grocery delivery is a relatively new business model. Many companies are still in the process of figuring out how to make it profitable. They have to balance the costs of acquiring customers and fulfilling orders with the revenue generated from sales. Some companies rely on subscription-based models, others charge delivery fees, and some make money through partnerships and advertising. Profitability can also be affected by scale, as larger companies may be able to spread their fixed costs across more customers. Which can make it easier to turn a profit. However, it's worth noting that many companies in this space are also currently investing in growth and are not yet profitable.
Online Payment Services
Online payment services are an important aspect of grocery delivery services. As they allow customers to easily and securely make payments for their orders online. These services can include credit and debit card payments, as well as digital wallet options i.e Google Pay, and PayPal. Online payment services also typically include fraud detection and prevention features. Which can help to protect both the customer and the business. Additionally, many of these services offer the ability to save payment methods for future purchases. Which can make the checkout process faster and more convenient for customers. This is one of the most important aspects of e-commerce, providing a secure and fast checkout experience.
Proof of Delivery and Customer Support
Proof of delivery and customer support are important features for grocery delivery services. As they help to ensure that customers receive their orders and that any issues or concerns are addressed in a timely and efficient manner. ShopOnMobile is the Best Delivery App for daily Essentials.
Proof of delivery is typically accomplished through the use of delivery tracking. Which allows customers to see the status of their orders in real-time and to confirm the delivery has been made. This can give customers peace of mind and help to prevent any misunderstandings or disputes.
Customer support is also an important aspect of grocery delivery service. As it allows customers to get help with their orders or to report any problems they may have encountered. This can include telephone and email support, as well as live chat and social media support. This allows customers to contact the company if they have any questions or concerns about their orders, delivery, or the service. This also helps businesses to address any issues in a timely manner and improve customer satisfaction.
Gives Employment Opportunities
Grocery delivery services can also provide employment opportunities for people in the local area. These opportunities can include jobs for drivers, customer service representatives, and warehouse workers. The jobs may include delivery driver, warehouse worker, customer service representative, and others. These jobs can provide a way for people to earn money and to gain work experience in the retail industry. Additionally, many grocery delivery companies use independent contractors or third-party delivery companies to fulfill orders. Which can provide opportunities for small business owners and entrepreneurs to start their own delivery business.
However, It's worth noting that the employment opportunities and job security in the delivery industry. It may vary depending on the company or the specific role. Some grocery delivery services may offer part-time or flexible scheduling, while others may offer full-time positions with benefits. Additionally, compensation, benefits, and working conditions may vary depending on the company, location, and type of work.