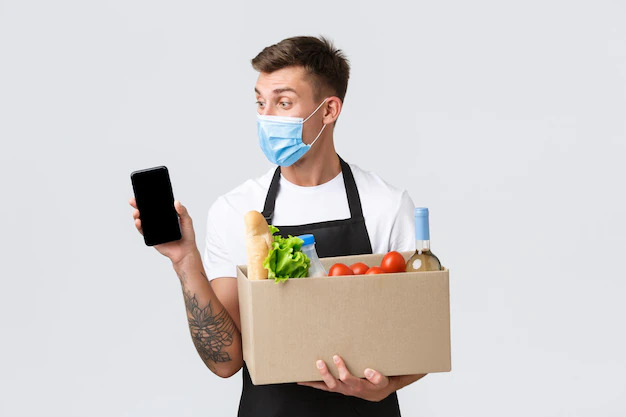 17 May 2022
Customers are considering online shopping to avoid brick and mortar stores' crowds. Pandemic has also played a vital role in changing customer's purchasing behavior. That's why the demand for apps for buying groceries online increased. How Can A Mobile App for Grocery Stores Expand Your Business?
What is the Role of Mobile Apps in Online Shopping?
Mobile apps are making it easy to order grocery items online. Online shopping has become an integral part of the young generation's life. You can make orders from the comfort of your home or where it suits you. Make payment easily via the online method of your choice. It is more convenient to make purchases using mobile apps than using desktop/laptops.
Getting a mobile app can help your business in different ways. Let's discuss some of them.
Grow business rapidly
Getting a shopping mobile app for your grocery store can increase your business rapidly. You can even expand your business globally by strengthening customer trust and offering better quality & facility.
Can track order
Using Shop On Mobile app you can track the live status of a product. They can know when their order will arrive and make their availability accordingly to receive the parcel.
Easy payment options
Mobile apps have different easy payment options. On Shop On Mobile you can pay using different online payment options like mobikwik. Online payment option is also safer and convenient.
Best offers on grocery items
If you use a mobile app then you will get the best offers on grocery items. The reason is the high competition level among online grocery stores. To retain customers, shopkeepers also offer cashback offers.
Can develop loyalty with the customers
Loyalty is very important to grow your business for a long time. Using a mobile app for your grocery store will help you to attract new customers and retain old customers. If you offer the best service on your app then customers will ask others to download your app.
Can get familiar with customer habits or behavior
If you consider using a mobile app for your grocery store then you have a strong collection of data. It will help you to know customer expectations and changing purchasing behavior. By knowing this you can make changes in your marketing strategy. You can offer discounts on items that customers are ordering on repeat. Mobile App for Grocery Stores Expand Your Business?

Shop On Mobile app is a free grocery app for shops with user-friendly service. Our app has the best features that will lead to growth in your business and sales. To stay in the competition download today the best grocery selling products app in India. We make it easier to order online because grocery items are the daily use items. Online shopping using mobile apps is the best option especially for women and old age customers to get orders delivered at their doorstep.